MEDTRAK VNG Hardware & Software

INTERPRA Data Interpretation

REHABILITATION Equipment & Training
VESTIBULAR REHABILITATION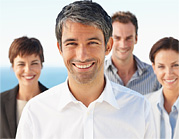 The Rehabilitation Testing and Treatment System (RTTS) provides a physical performance test (PPT) which is non-invasive, non-pharmaceutical technology that provides an objective assessment of a patient's balance disorder by utilizing force plate technology and normative data. Because it provides an objective measurement of the patient's progress, it can also be used to determine the effectiveness of treatments for balance disorders.
RTTS analyzes the patient's balance disorder by testing the three systems of balance and equilibrium (Vision, Vestibular and Somatosensory). The patient's responses are measured and compared to age matched normative data and the practitioner receives an objectively measured balance assessment differentiating between visual, vestibular and somatosensory pathology. Results appear on the screen and a printout of normative data and the patient's results (to three standard deviations) are generated for the patient's medical records.
For the PPT, the patient stands on a computerized force plate which then records the patient's standing balance when all three balance systems are being utilized, when the visual system only is removed, when the somatosensory system only is removed and then when both the visual and somatosensory systems are removed. Utilizing the patient's height and age, limits of stability and age matched norms the patient's tests are then measured, recorded and compared, producing graphs and data from which the practitioner can determine the patient's weakest balance systems and the patient's "risk for falling." This assists the practitioner in determining an appropriate treatment plan for rehabilitation.
RTTS is then utilized as one of the tools for rehabilitating individual patients. The patient can be run through a battery of individualized treatment programs designed specifically for each individual's deficits which were found during the VNG test and PPT. These programs involve following patterns which challenge the patient's balance and limits of stability while standing on the computerized force plate on stable and non-stable surfaces. Each patient's treatment session is recorded and the practitioner can then monitor the progress of the patient from session to session.
PT's choosing to treat patients in the home care setting are able to bring a RTTS with them for use in the initial evaluation and at discharge in order to objectify and quantify the dysfunction at the outset of therapy and the attainment of goals at discharge. All treatment will be performed utilizing simple tools that the therapist can easily carry with them including foam rubber pads, frosted glasses to impede vision, and other simple tools. The goal of treatment is to rehabilitate the vestibular system and improve reactions with patients who have visual and/or tactile deficits. When in the home the PT can assist the patient with managing the home environment with safety tips and advice.
RELIABILITY & EXCELLENCE
Data Interpretation
Provided by Interpra
Managed by S & S Health Products, Inc.

Our Main Business Products and Services Overview