MEDTRAK VNG Hardware & Software

INTERPRA Data Interpretation

REHABILITATION Equipment & Training
Caloric Irrigation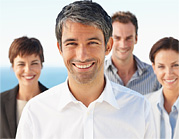 The ATMOS Varioair is used for "dry" thermal examination of the vestibular organ by means of air. Special features are an extremely precise temperature control and an exact dosage of the air flow. During unchanged stimulation periods, a constant level of the transmitted thermal energy is guaranteed. The Varioairs dry therrmal examination allows for a clean, dry medium for ease of use with regards to patient comfort and for rooms where water cannot be used as the stimulating medium.
The ATMOS Variotherm plus is used for caloric examination of the vestibular organ by means of water. The generation of biofilms and, accordingly, the spread of germs inside the unit is diminished by a thermal process for reducing bacterial count. Stimulation periods can be preset and the water flow is restricted to 150 ml/min. during stimulation. With the time control off, the Variotherm plus can be used for all types of irrigations in the ENT field; the full flow quantity of up to 430 ml/min is then available.
RELIABILITY & EXCELLENCE
Data Interpretation
Provided by Interpra
Managed by S & S Health Products, Inc.

Our Main Business Products and Services Overview